This is part one of the Best in Books section. See yesterday's post—Reading Stats—for the beginning of the survey.
All answers are for 2014, so I've taken out all the mentions of the date or "this year" in the prompts.
1. Best book I read?
The Perilous Sea by Sherry Thomas – This book is fantastic. It has everything I want in a book–shippy ships, shocking twists, deep discussions, lots of giggles, and an underlying tension that kept me flipping pages like a madwoman.
Honorable mention: Really, though, I can't talk about the best of the best without mentioning Mortal Heart by Robin LaFevers as well. My circumstances were a little different, so I actually read it at the tail end of 2013, thereby disqualifying it from this survey. (I'm also just a touch biased by my insane fangirl levels.)
1a. Historical fiction
Maid of Deception by Jennifer McGowan – I binge read the first two books in this series just this year, and while I loved Maid of Secrets, Maid of Deception (release date: August 2014) took a solid story and made it mind-blowingly AWESOME. The things Ms. McGowan does with perception and narration is a level of talent that I rarely see. Also, the hot Scottish lord doesn't hurt matters.
A very honorable mention goes to The Sunbird by Elizabeth Wein (not a 2014 book) and The Falconer by Elizabeth May (a 2014 book). The Sunbird gets a nod despite not being published in 2014 because I read it for the first time and the courtroom scene was one of the most painful things I read all year, while The Falconer completely exploded my expectations in regard to faery and steampunk books. (Also, KIARAAAAAAAAN.)
1b. Fantasy
Excepting The Perilous Sea, which would win by default, the winner must be Princess of Thorns by Stacey Jay – Hullo, excellent book that exploded my heart into shippy, glittery pieces with your excellent shipper ways and wonderful bromances and romances and AUGH. I still can't think of you without wanting to wail with delight.
A very honorable mention goes to Ruin and Rising by Leigh Bardugo. Mal! Alina! The Darkling! Sturmhond! Oncat and Hershaw! Tolya and Tamar! Genya and David! Zoya! ALL MY BEBES.
1c. Sci-Fi
Alienated by Melissa Landers – Alienated isn't "hard sci-fi," and there's nothing wrong with that. Instead of Independence Day or even Close Encounters, I got to enjoy a delightful, Disney Channel Original Movie-esque take on social justice, racism, and love with a giggle-worthy helping of banter.
A very honorable mention goes to Stitching Snow by R.C. Lewis, because Dimwit and Cusser alone merit praise without even getting into the glory that is Essie, Dane, and that world-building. Woah.
1d. Apocalyptic/Post-apocalyptic
H2O by Virginia Bergin – I can't shut up about this book. It completely defied my expectations, didn't flinch away from the harder truths that come with an apocalypse, and even made me feel love and affection for an unlikeable protagonist, which is notoriously hard to do.
A very honorable mention goes to In a Handful of Dust by Mindy McGinnis. Revisiting Lynn's world can never be described as a pleasure, but I loved being able to travel with her and Lucy once more. Perfection.
1e. Paranormal
Nearly Gone by Elle Cosimano – I think technically I should have shelved this one under thriller, but Nearly's abilities are paranormal, and I so desperately wanted to recognize this book publicly. It was a blast to read, and characters who flirt using chemistry terms should always be rewarded.
1f. Crime/Thriller
How To Lead a Life of Crime by Kirsten Miller (2013) tied with Killer Instinct by Jennifer Lynn Barnes (2014) – I try to avoid ties at all costs, but I could NOT place one of these books over the other. Life of Crime came out in 2013, but I read it for the first time this year and still can't stop talking about it. Killer Instinct, on the other hand, was published this year and returned to a concept and a cast of character that I adore intensely. Both deserve the highest praise.
A very honorable mention goes to Dear Killer by Katherine Ewell. I still can't get over how on point the psychology was. Man oh man.
1g. Contemporary
High & Dry by Sarah Skilton – Sure, this book has a noir mystery flavor, but it's contemporary, and I loved it.
A very honorable mention goes to Top Ten Clues You're Clueless by Liz Czukas for being super-realistic in the most hilarious way.
1h. Middle grade
The Perfect Place by Teresa E. Harris – It's contemporary AND an issue book, and I loved it. The diversity was refreshing and the story was soft but potent.
A very honorable mention goes to Sidekicked by John David Anderson (2013) and The Scandalous Sisterhood of Prickwillow Place by Julie Berry (2014). Sidekicked wasn't published this year, but it's the best superhero book I've read in a long time. On the other hand, Scandalous is from this year and had me in stitches the entire time. Hooray for giggles!
2. Biggest letdown (Book I thought I was going to love but didn't)?
Winterspell by Claire Legrand – A YA retelling of The Nutcracker by one of my favorite authors should have been an automatic winner. Sadly, that was not the case.
A dishonorable mention to The Midnight Thief by Livia Blackburne. It hurts so much when a YA fantasy book disappoints me, especially when it's a book about THIEVES.
3. Most surprising (good or bad) book?
The Perilous Sea by Sherry Thomas – The first book in this series was cute and fun but just okay for me, a typical three-star read. I was expecting more of the same for The Perilous Sea, but instead ended up reading my favorite book of the entire year. Hooray!
A very honorable mention goes to Stitching Snow by R.C. Lewis. I'd read mixed reviews about Stitching Snow and went in with low expectations only to have them blown out of the water! Again, hooray!
4. Book I pushed the most people to read (and they did)?
Mortal Heart by Robin LaFevers – Duh. When an uber-fangirl (and eager assistant) reads what ends up being the BEST book in one of her favorite series, hyper puppy dog-esque book pushing inevitably ensues.
I was also pretty pushy about the Maids of Honor series (Maid of Secrets and Maid of Deception), Princess of Thorns, and H2O, among others.
5. Best series? Best sequel? Best series ender?
5a. Best series
I don't know how to answer this one, since it clearly requires answers from outside of this year. If I limit this question to entire series that I binge read in 2014, I'd have to pick the Dairy Queen books by Catherine Gilbert Murdock.
5b. Best sequel
Oh gosh, how do I choose? By rights, The Perilous Sea by Sherry Thomas should win, since it also won my Best Book of the Year. However, both Maid of Deception by Jennifer McGowan and Killer Instinct by Jennifer Lynn Barnes did the impossible by improving upon series that I already adored. So I guess all three deserve to win and I claim my right as decider to make it so.
5c. Best series ender
Mortal Heart, duh. That's right, I'm sticking it in! It's my favorite of the series, and I must appease my heart. If that's not allowed, however, I'd have to pick Ruin and Rising by Leigh Bardugo. (Although if we allow audiobooks from 2009, we NEED to talk about Percy Jackson and the Last Olympian by Rick Riordan, because my heart could not handle the stress.)
6. Favorite new author I discovered?
This question is the WORST! Gosh, I devoted an entire TTT to this question, and now I have to pick ONE?? Imma split it up.
6a. Favorite new-to-me previously published author
Cressida Cowell – Guh. I binged pretty hard on the How To Train Your Dragon series. I'm still not done, but it's awesome and twisty and yessssss.
6b. Favorite new-to-me debut author
Elizabeth May – Gosh, I loved The Falconer so much. So very much. Strong girls whose strength isn't just in the power behind their punches, hot Fae boys, hot human boys, subtle steampunk flavoring, end-of-the-world stakes—yessssssss.
7. Best book from a genre outside my comfort zone?
Evidence of Things Not Seen by Lindsey Lane – It's contemporary, there's magical realism elements, and there are literally over a dozen narratives. You can't get much farther outside of my comfort zone, and yet the book was well-crafted and wormed its way deep into my brain.
8. Most action-packed/thrilling/unputdownable book?
I maaay have binged Game and Blood of My Blood by Barry Lyga back to back in… oh, less than a day.
9. Book I read in 2014 that I'm most likely to reread in 2015?
Princess of Thorns by Stacey Jay – Well, that was an easy choice. I already want to reread it!
10. Favorite book cover of a book I read?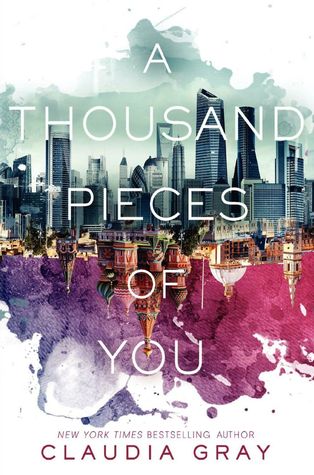 A Thousand Pieces of You took my breath away when I first saw it. It's gorgeous and fits the story so well. And Every Breath is just dang sexy.
11. Most memorable character?
11a. Protagonist
Annith from Mortal Heart. Honestly, reading about Annith felt like crashing on a comfy couch with my best friend. I get her. I LIKE her.
11b. Antagonist
The Darkling from Ruin and Rising by Leigh Bardugo, because he's awesome and hot and DEFINITELY thinks he's the hero of his own story, which is the mark of a quality antagonist.
An honorable mention goes to the Spanish Influenza from A Death-Struck Year by Makiia Lucier, because it's scary and REAL and auuuugh.
11c. Love interest
Such a hard one this year. So many beautiful people! Okay, so, I HAVE to pick my boy Balthazaar from Mortal Heart, because he's dark and broody but also has a sense of humor and nnnngh. My call of dibs still stands.
A very honorable mention goes to Soap from Waistcoats & Weaponry by Gail Carriger. I adore this boy. He's wonderful and I could hug him to pieces.
12. Most beautifully written book?
A Creature of Moonlight by Rebecca Hahn –  Such beautiful words. The words themselves are beautiful, the way they're put together is beautiful, and the cadence… Do yourself a favor and go drown in this prose.
13. Most thought-provoking/life-changing book?
Packing for Mars by Mary Roach was my sole non-fiction read this year, and it was awesome. If you ever want to learn about a subject in a really entertaining, no-holds-barred way, definitely check out Ms. Roach's books. Packing for Mars covered everything I wanted to know about living in space, and everything I DIDN'T want to know but was pleased to learn anyways.  It didn't change my life (no book this year really did), but it was definitely thought-provoking and gave me the opportunity—when my mom asked what I was reading about—to call out, "POOP! IN SPAAAAAACE!"
14. Book I can't believe I waited so long to read?
Harry Potter and the Goblet of Fire by J.K. Rowling – Okay, I'll admit, I was pretty hooked by this one. I've enjoyed the Harry Potter series so far, but GoF took the series to the next level (even though it is the size of a small dog.)
A very honorable mention goes to How To Train Your Dragon by Cressida Cowell. I JUST LOVE THESE BOOKS SO MUCH!
15. Favorite passage/quote?
"Your loyalty lies with me," I interrupted in a cold fury, hearing the frost in my voice as blowing straight down from the northern sea. "How dare you. How dare you stand cloaked in imperial robes not your own, in a palace not your own, with the royal spear bearers of a rival empire at your back, accusing your own sovereign's ambassador of treachery!" – A Coalition of Lions by Elizabeth Wein
—
"Someday we will be more than words in the dark." – Snow Like Ashes by Sara Raasch
—
"We hear you shoot like a man."

"You heard wrong. I shoot like a woman." – In a Handful of Dust by Mindy McGinnis
—
These are only a few of the quotes I adored this year, but they make me cheer even now. Basically, I like women going out and being their bad selves.
—-*—-
That's all for Best in Books part one. Come back tomorrow for part two!