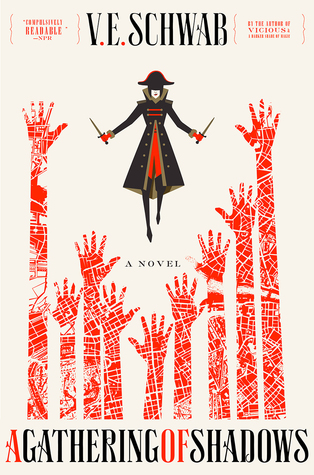 Four months have passed since the shadow stone fell into Kell's possession. Four months since his path crossed with Delilah Bard. Four months since Rhy was wounded and the Dane twins fell, and the stone was cast with Holland's dying body through the rift, and into Black London.

In many ways, things have almost returned to normal, though Rhy is more sober, and Kell is now plagued by his guilt. Restless, and having given up smuggling, Kell is visited by dreams of ominous magical events, waking only to think of Lila, who disappeared from the docks like she always meant to do. As Red London finalizes preparations for the Element Games—an extravagant international competition of magic, meant to entertain and keep healthy the ties between neighboring countries—a certain pirate ship draws closer, carrying old friends back into port.

But while Red London is caught up in the pageantry and thrills of the Games, another London is coming back to life, and those who were thought to be forever gone have returned. After all, a shadow that was gone in the night reappears in the morning, and so it seems Black London has risen again—meaning that another London must fall.
Oh, this series. AGOS's cover was released a while ago, but I wouldn't even let myself read the synopsis until I finished ADSOM (which I finally did this month.) But now I can enjoy every square millimeter, because WOW, does Victoria Schwab have great luck when it comes to covers for this series.
This cover does a great job of carrying over the themes from the last cover (color palette, cool coat, maps) but does something new at the same time. First of all, LILA! HI, LILA, YOU BEAUTIFULLY CUNNING PIRATE THIEF QUEEN YOU! Way to rock the coat and the hat, girl! Also, A++ on the double-fisted daggers there. What really impresses me, though, are the hands. They're freaking creepy and tie in nicely to the synopsis. Also, the continued use of red is great, given the color's association with blood magic.
What do you think of this cover?