THIS IS NOT A TRUE POST. This blog is not back. But since closing down Shae Has Left the Room, I've kept up with my quest to read the Harry Potter series and now find myself at the end… with a pile of notes that are too long for Goodreads. All this is is a way to store my thoughts regarding Harry Potter and the Deathly Hallows so those following along on Goodreads can read them. (This is my profile, by the way, if you want to follow me on Goodreads.)
——————–
This is it, folks! The end of my journey! As of right now, I am no longer a special little unicorn in the kid lit world. I have completed a three-year-long journey in stubbornness and finished the Harry Potter series for the first time ever. I now know all the things. I can read things on Tumblr and know what the heck is going on. My eyes have been opened.
Okay, this book is long, so my freeform thoughts that I jotted down while reading will be equally long. Since it's the last book, crap goes down, so there will be a lot of ALL-CAPS. Just FYI.
Here we go.
Playing With The Big Boys Now
Well now, we're starting right with Big V and his posse. That's a change. But who are some of these people? Am I supposed to know Yaxley? Or this Burbage lady? I feel like, atmospheric though this scene is, it would have been tenser if Big V were making someone we know and care about dangle like that.
I feel bad for the Malfoys, knowing what I know. Like, they're horrible people, but clearly they're regretting their choices now. Come on, guys. Break free. You know you want to.
Bellatrix still sucks, though.
Harry & Co. And Somehow Still Way Too Much Dumbledore
Wow, lots of Dumbledore backstory to suddenly spring on us 1) in the final book 2) after he's already dead. He's dead. I'm at peace. Go away.
Who the heck is Ariana? He had a sister?? And a brother? Why did Dumbledore duel Grindelwald? Was this like a pay-per-view fight for entertainment or a legit Burr/Hamilton duel? Grindelwald is the guy whose face disappointed everyone who saw Fantastic Beasts, right? (Sorry, actor, I'm sure you're really a handsome guy, whoever you are.)
… and it seemed to Harry now, despite the fact that his future was so dangerous and so uncertain, that he had missed irreplaceable opportunities when he had failed to ask Dumbledore more about himself, even though the only personal question he had ever asked his headmaster was the one one he suspected that Dumbledore had not answered honestly
HONESTLY?!!?!!?!? You think Dumbledore always answered HONESTLY?!?!?!?! Pardon me while I die laughing.
"I don't think you're a waste of space."
DUDLEY. Aw, I'm so proud of this kid. He may not be very bright or very nice, but he's trying. He's growing. I love all the Tumblr head canons I've seen about grown Dudley, so I feel rather attached to him, horrible though he's been for the last six books.
But I thought Petunia was supposed to have a moment of confession with Harry? Or was that just a movie thing? Or a fanon thing?
Ah, shoot. The whole Order is here, and Harry is looking at them and describing them so fondly, and I am legitimately getting emotional because they're all lined up, ready to die for him, and I just can't. This is like in the other books where J.K. described the photo of the old Order group together and they all looked happy even thought most of them were going to be dead soon. Ugh.
"If you think I'm going to let six people risk their lives–"

"–because it's the first time for all of us," said Ron.
Stars, Weasley, I love you.
But why did Harry yank out a hunk of his own hair?! Ow! Firstly, you only need six strands, dude. Secondly, ever heard of scissors?
… So that's it for Hedwig? I've been reliably informed that this scene was devastating to readers of all ages, but that felt rather anticlimactic to me. I had to read it twice to even figure out what had happened. Huh. Well, bye-bye birdie.
GEORGE'S EAR OH NO! AND SNAPE DID THAT!
"Ah well," said George, grinning at his tear-soaked mother. "You'll be able to tell us apart now, anyway."
She won't have to for loooooooooong no I'm not crying DON'T TOUCH ME
Noooo, they lost Mad-Eye, too. OR DID THEY? TV has ruined me. No body, no gravestone, no death, y'all.
(Sidenote: Once again J.K. shows questionable taste when it comes to underage drinking. I know they just went through an ordeal, but Harry is sixteen, and I don't like that firewhiskey and courage have now been positively linked.)
Noooo Ollivander.
With The Weasleys
… Okay, I'm a bit disappointed. The bomb about Hermione wiping her parents' memories is way less poignant than Tumblr made it out to be. Kind of a blip, really.
"… Well, Fred and George gave me a copy, and I've learned a lot. You'd be surprised, it's not all about wandwork, either."
*gasp* BOYS! Naughty.
Awwwwww, the watch birthday gift. This is one part where the Tumblr meta DEFINITELY makes it better.
Huh. I forgot Harry and Ginny broke up. Awkward.
"Are you planning to follow a career in Magical Law, Miss Granger?" asked Scrimgeour.

"No, I'm not," retorted Hermione. "I'm hoping to do some good in the world!"
.
"It's time you learned some respect!"

"It's time you earned it," said Harry.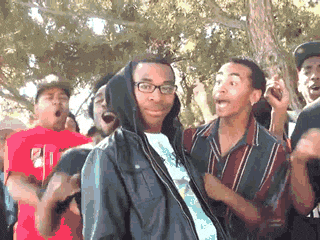 Oooh, Beedle mention! But ugh, Dumbledore and his dumb mysteries.
"When I get married," said Fred…
STAHP IT STAHP IT STAHHHHHHP
I don't get it. Why is Lupin so glum?
VIKTOR!!! HI YOU!! <3 <3 <3
Blah blah blah Grindelwald blah Dumbledore is a jerk a fact which shocks no one but Harry blah blah blah
"The Ministry has fallen. Scrimgeour is dead. They are coming."
IT'S THE MINES OF MORIA ALL OVER AGAIN WATCH OUT FOR CAVE TROLLS
On The Run, Part One
Never done a memory charm, you say, Hermione? But? Your parents? Literally like seventy pages ago? Your parents?
Oooooh, scary ghost Dumbledore. Nice.
She made her "g"s the same way he did.
Why does this hurt me?
Ohhhhh, so that's how Regulus died. Yikes.
"Were they Death Eaters or Ministry people?" interjected Hermione.

"A mixture; but to all intents and purposes they're the same thing now," said Lupin.
Yowch. Also, this talk about a malevolent figure being willing to pull the puppet strings of a presumed leader from the shadows is hitting a liiiiiiiiiiittle bit too close to home. OH GEEZ AND NOW THEY WANT TO FORM A REGISTRY.
I'm so confused at Regulus because a baby is a good thing… AND THERE GOES MY BOY POTTER SPITTING TRUTH. Honestly, Sirius and Remus both have a bad habit of speaking for what they think James would have wanted as a way to justify their own choices, and it's about timed Harry jabbed at them for that.
There was a sound of pattering feet, a blaze of shining copper, an echoing clang, and a shriek of agony: Kreacher had taken a run at Mundungus and hit him over the head with a saucepan.

…

"Kreacher, no!" shouted Harry.

"Perhaps just one more, Master Harry, for luck?"
I already love Kreacher 1000000000000x more than Dobby. This guy is the best.
UMBRIDGE?!?! UMBRIDGE HAS THE LOCKET?!?! Oh man oh man.
Okay, there's this brief descriptive scene about people lurking outside the invisible #12 FOR DAYS to try to catch Harry & Co. and the neighbors just shrug it off. The only thing I can think of is that the neighbors are all males over the age of 18 with no kids at home.
Oooh, Snape is headmaster. That sucks.
I am a child. Hermione screeched "Merlin's pants!" and I can't stop giggling because I remembered that in Europe pants = underwear.
THEY TOOK MAD-EYE'S EYE AND MOUNTED IT LIKE A HUNTING TROPHY?!!??!?! This might be the most horrifying bit of information in the entire series. I need to lie down.
Umbridge's patronus is a cat? Oh McGonagall must haaaaate that.
(Sidenote: Why is the patronus spell the only one Hermione has trouble with? If dementors symbolize depression and a patronus is the only way to fight them, what does that mean about Herm?)
On The Run, Part Two
Ron splinched?! Ewwwww.
Now he's fretting over the Cattermoles and if they got away and if the rescue only made things worse and Hermione is going completely goo-goo-eyed and I wonder if he's thinking about the Cattermoles as THEM since they would have been in a similar situation. I love these two so much.
Dean Thomas, yay hi! Ted is Tonks's dad's name? Innnnnnteresting.
Ginny, yay hi!! Go you, my child! And go Neville and Luna!! Fight the man!
Ron noooooooooooooooooooo don't leave! Come back! Hermione is crying! Don't make Hermione cry, you love her!
This book is stressing me out so much, because Harry and Hermione are disguised as other people but keep using their REAL NAMES to address each other IN PUBLIC. They're like those people from Parks and Rec.
Now Harry is at his parents' graveside and ugh, they were so young. Twenty-one. They were twenty-one. I have SIBLINGS older than that. Ugh ugh ugh.
Okay, this whole domination pureblood thing plus a seemingly positive saying be placed over a prison gate and that prison being called Nurmengard (which sounds too much like Nuremberg) is making me really uncomfortable.
YES! Harry is finally waking up to the fact that Dumbledore is a secretive jerk who was not nice at all! … But considering the things I am starting to remember about D's alleged relationship with Grindelwald, Harry complaining about the closeness of that relationship is kind of creepy.
A doe patronus? A doe… Oh, Snape? Ooh, and the sword! Convenient! AND RON HOORAY!
Together Again, Together Forever
Oh no. Poor, poor Ron. The locket is saying all kinds of horrible things, and I just want to cuddle him and pet him and tell him he's the best.
"That makes me sound cooler than I was," Ron mumbled.

"Stuff like that always sounds cooler than it was," said Harry. "I've been trying to tell you that for years."
HA HERMIONE IS SO MAD THAT THE BOY WHO LIVED HAD TO FREAKING USE A SPELL TO KEEP HER AWAY
The sarcasm dripping out of this girl's mouth is giving me life right now.
I like that Harry refuses to let Dumbledore and Grindelwald off because of their age. They're old enough to know what they're doing is wrong, and that's that.
They're at the Lovegoods' now and what the heck is Xenophilius's problem?
DEATHLY HALLOWS! OH! THEY SAID THE THING! THEY SAID THE THING! (And now I get to find out what the heck it means hallelujah.)
"Death's got an Invisibility Cloak?" Harry interrupted again.

"So he can sneak up on people," said Ron. "Sometimes he gets bored of running at them, flapping his arms and shrieking…"
LOLZ
The three brothers… So THAT'S where that quote comes from. Everyone on Tumblr keeps pairing sad fandom things (ANY fandom) with this thing about three brothers and greeting Death and I never knew what it was from. Go figure.
I love that Harry & Co. all chose differently when talking about which of the Hallows they'd want. Also, I need to read Beedle.
Gasp! Lovegood, you slimeball! No one warned me he was a traitor! I've only seen happy wedding dancing gifs!
LEE JORDAN! MY CHILD IS ON THE RADIO! … With Remus, who thought it was clever to take the code name "Romulus."
Aw, Fred cracking wise on Potterwatch and giving people hope. I love him.
"…but the fact remains that he can move faster than Severus Snape confronted with shampoo…"
Hello, police? I'd like to report a murder.
Harry just said Voldemort HARRY YOU UTTER MORON
Danger, Will Robinson, Danger!
BELLATRIX IS DRAGGING HERMIONE AWAY AND HERMIONE IS SCREAMING AND RON IS YELLING FOR BELLATRIX TO TAKE HIM INSTEAD AND I AM INWARDLY RUNNING AROUND IN CIRCLES HELP HELP HELP HELP HELP
Oh wow, Peter just died. Betrayed by his own hand. Literally. And by a moment of mercy for the kid of the OTHER guy that he helped kill? Weird. Bet there's some great meta on this.
Both Narcissa and Bellatrix just stopped dead over Dobby choosing Harry Potter over them. I wonder if they feel betrayed. Was Dobby a Malfoy-inherited elf or was he part of their family household, do you think?
Heyyyy, he's dead! Finally! I mean, yes, it's tragic and I feel really, really bad for Harry, but that elf annoyed the snot out of me.
And he thought of Wormtail, dead because of one small unconscious impulse of mercy… Dumbledore had foreseen that…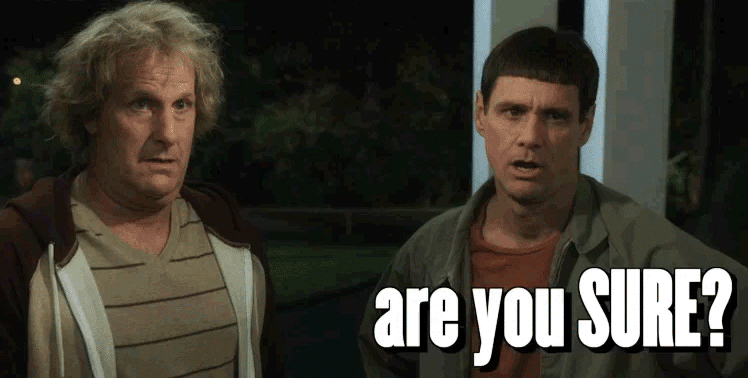 Look, I need to be brutally honest, you guys. I don't like Luna. Not even a little. I can't stand people who refuse to face facts. IT. WAS. AN ERUMPENT. HORN. YOU. IDIOT.
Hey, Escape from Gringotts! Isn't that a ride?
How did Lupin know Harry was okay? He doesn't seem surprised to see him at all.
Back At Hogwarts
ABERFORTH IS THE BARMAN!!? DID WE KNOW THIS?????
"My brother Albus wanted a lot of things," said Aberforth, "and people had a habit of getting hurt while he was carrying out his grand plans."
YES. GO AWF, ABERFORTH! New favorite guy right here.
Ariana killed Kendra. Wow. And maybe Albus sort of killed Ariana. Annnnnnnd Grindelwald is a spineless coward, to the surprise of no one. (Really, guys? This was the rep you were so excited about? A secretive jerk and a murdering neo-Nazi?)
NEVILLE IT'S NEVILLE MY OTHER CHILD OH I'M SO EXCITED!!!! Also, Neville talking about all the times he stood up and fought back even though he knew he'd be carved up because it gave other people hope is just… my heart. my hearrrrrrrt.
Neville's Gran is the bomb dot com and I'm so please she's finally proud of him like I am.
I hate that there's no Slytherin rep in the Room of Requirement.
Harry just explicitly went against Dumbledore and let the others know what he was looking for so they could help him HAHA TAKE THAT YOU DEAD JERK
i can't even use caps here because i could write a whole essay in all caps about amycus spitting in mcgonagall's face (the nerve!!!!!!!!!!!!) and harry blowing his cover to defend her because she's freaking mcgonagall and how dare anyone disrespect her ever in any way oh my stars i cannot right now i neeeeeeeeeeed to see this scene performed
Ooh. McGonagall and Umbridge do share a patronus. But why does McG get three? Does that mean she's extra protected against dementors/depression? Or is she just really good at sharing/protecting others?
Freaking Snape freaking flying like a freaking greasy-haired loser vampire.
McGonagall is going around the castle waking defenses and rallying everyone and lady is a freaking BEAST. She's like a grown Kevin McAllister pulling out all the stops but instead of Sticky Bandits she's gonna fry herself up a Dark Lord.
Everyone just piled into Hogwarts. All of them. The Order. The DA. The students. As much as talk of crying is used metaphorically, I legitimately got emotional at this part. It's like in that one season of Doctor Who where Wilf knocks four times and you KNOW the prophecy just clicked into place and it can't be stopped and the one doomed to die <i>is</i> going to die now, except instead of one lonely Time Lord, it's a whole room full of people that I've known were doomed from the start but whose Time Has Now Come. With no exaggeration, I read this scene, and that song from Les Mis started playing in my head.
PERCY!!! PERCY IS HERE, YOU GUYS! PERCY WEASLEY FINALLY PULLED HIS HEAD OUT OF A TIGHT, DARK, STINKY PLACE AND IS READY TO FIGHT BESIDE HIS FAMILY!
Ugh I see you running for the exit, Zacharias Smith. I SEE YOU. All Hufflepuff are loyal and steadfast, my tuckus.
"Is this the moment?" Harry asked weakly.
Oh you crazy kids. But seriously, Hermione throwing herself at Ron for remembering the house elves is just the best.
Crabbe is dead, Doyle is out cold, and Malfoy just clung to Harry "so tightly it hurt." Well well well.
Okay, now the true Battle is about to begin, so I will be switching into a new mode. Remember in PoA when Lee Jordan ran the commentary for the Cup Final and was full caps the entire time? That will likely be me. Hold on.
The Battle Of Hogwarts
Okay, another Horcrux down. That's good. Good progress, guys. But now Death Eaters are in the castle and everyone is dueling and Percy is going AT IT with Thicknesse and–
HOLY CRAP THAT WAS EVIL. THAT WAS PURE EVIL. I KNEW FRED WAS GOING TO DIE BUT I DIDN'T KNOW IT WOULD BE SO SOON AND I DEFINITELY DIDN'T KNOW IT WOULD COME OUT OF NOWHERE WHILE HE WAS LAUGHING WITH HIS PRODIGAL BROTHER WHAT THE CRAP WHAT THE ACTUAL CRAP I THOUGHT HE WOULD AT LEAST GET A WICKED AWESOME DUEL WITH A WORTHY OPPONENT BUT NO HE WAS SLAIN BY THE CRUEL VAGARIES OF WHIM AND WAR OH WHAT A WORLD WHAT A HORRIBLE WORLD
This is the first time I truly regret not being in the fandom when this book was new, because I can only IMAGINE what it was like to read this book having no clue what was coming or who would live or die. Please, give me your stories. How did you react? How did your friends react? Did you scream? Burst into tears? What happened? Give me your war-torn "I remember exactly where I was when–" stories!
Wow. Lucius cares about Draco? Like, truly cares? Who knew?
…as a herd of galloping desks thundered past, shepherded by a sprinting McGonagall. She appeared not to notice them: Her hair had come down and there was a gash on her cheek. As she turned the corner, they heard her scream, "CHARGE!"
When I read this, I ignored the bit about the sprinting and instead pictured McGonagall RIDING one of the desks, and it's not portrayed like this in the movie, Imma spit.
This whole Battle is utter chaos and I adore it. I can't wait to see it on the screen.
OH NO NOT LAVENDAR GET OFF YOU NASTY DOG YAAAAAAAY TRELAWNEY GO TRELAWNEY WAY NOT TO BE USELESS WOOHOO (but I thought she died in this series? why is she not dead?)
… Was that it for Hagrid? Was that his big death scene? He ran willingly into the (many) arms of giant spiders?
Interlude
"Crookshanks?" wheezed Hermione, bent double, clutching her chest. "Are you a wizard or what?"
Ha, jokes jokes, always with the jokes.
SNAPE IS DEAD HUZZAH HUZZAH but also Snape demanding to see Harry's eyes before he died was weird and creepy wowwwwwww I still really hate him.
Oh nooooooo Remus and Tonks. We didn't even get to see them die. What happened? How did they die? Who killed them? Were they together or did they die apart and alone and then were found and brought to the Great Hall with the others? This is so unnecessarily harsh. Poor Harry. And I see George has found out. I want to know how he found out about Fred, because clearly I am a masochist.
Ugh into Snape's creepy little head.
"No–listen, I didn't mean–"

"–to call me Mudblood? But you call everyone of my birth Mudblood, Severus. Why should I be any different?"
GO LILY GO.
"You disgust me," said Dumbledore, and Harry had never heard so much contempt in his voice. Snape seemed to shrink a little. "You do not care, then, about the deaths of her husband and child? They can die, as long as you have what you want?"
HAHAHA TWENTY POINTS TO GRYFFINDOR! We have just settled the question of who I hate more, Dumbledore or Snape.
Dumbledore opened his eyes. Snape looked horrified.

"You have kept him alive so that he can die at the right moment?"
… Or so I thought, until like ten pages later when this happened. Look, Dumblejerk, when even SEVERUS SNAPE is horrified and appalled, you done messed up. Also, Snape earned (very, very tiny, itty bitty, minuscule) points by snapping at Phineas for calling Hermione a Mudblood. Clearly Snape cares jack-squat for Hermione, but at least he's developed a psychological aversion to the word.
So yep, I now know all about Severus Snape. Still hate him. Dumbledore too.
To The Death
Aw, Creevey died. He was annoying, but so young.
Good old Neville, urging Harry to keep fighting, still trucking along gathering the dead bodies of his friends and classmates with nary a complaint. Good old Neville.
But he was home. Hogwarts was the first and best home he had known. He and Voldemort and Snape, the abandoned boys, had all found a home here…
So they're the three brothers, then? Voldemort is obviously the wand one, but is Harry the stone one or the cloak one? Technically both he and Dumblejerk welcomed Death as an old friend.
Aw. I'm glad Harry didn't have to walk the way alone. Very Garden of Gethsemane.
Oh hey, Hagrid, guess you're not dead after all. Surprise!
Harry is dead, and once again I so wish I could've been around all the new readers who thought this was The End for our boy wonder.
Look, Dumbledore does a great job of admitting he did wrong, but that doesn't absolve him of those wrongs, because he is VERY VERY WRONG. I join the rest of the fandom in being salty about Albus Dumbledore Potter until my dying day.
Huh. Saving Draco saved Harry. How very… Tolkien-esque (like so many other things.)
Poor crying Hagrid. This scene must have been heartbreaking.
The scream was the more terrible because he had never expected or dreamed that Professor McGonagall could make such a sound.
NOPE THIS SCENE MUST HAVE BEEN HEARTBREAKING. MCGONAGALL SCREAMING LIKE A MOTHER OVER HER CHILD AND RON AND HARRY AND GINNY AND EVERYONE CRYING OUT OVER HARRY LAND SAKES ALIVE I HAVE TO SEE THIS SCENE IN ALL ITS CINEMATIC GLORY
NEVILLE LAUNCHED HIMSELF AT VOLDEMORT I AM BESIDE MYSELF I AM WITHOUT WORDS
THE FAMILIES ARE HERE AND THE BEASTIES ARE HERE AND GRAWP IS HERE AND ALL OF HOGSMEADE IS HERE AND HAGRID IS SCREAMING FOR HARRY AND NEVILLE KILLED NAIGINI LIKE THE FRICKETY FRACKING HERO THAT HE IS AND IT'S UTTER PANDEMONIUM AND
The house-elves of Hogwarts swarmed into the entrance hall, screaming and waving carving knives and cleaversm and at their head, the locket of Regulus Black bouncing on his chest, was Kreacher, his bullfrog's voice audible even above this din: "Fight! Fight! Fight for my Master, defender of the house-elves! Fight the Dark Lord, in the name of brave Regulus! Fight!"
I am legitimately crying right now this is such a gift
THERE'S MRS. W AND SHE SAID THE THING THAT I CAN'T REPEAT AND BELLATRIX IS DOWN I REPEAT BELLATRIX IS DOWN HO MY
Now THAT was a duel. Land sakes alive, what a duel. So crisp and clear and epic, holy cow. Holy cow. Holy cow.
Wrapping Up
But what about Draco? That's it? He doesn't even apologize. Not once. Not once does he actually take Harry's side. The ONLY Malfoy who does squat for Harry is Narcissa, and even then only because she wants to get to her kid. She doesn't care about Harry. Are you kidding me? The fandom has been bending over backward in their apologia for this kid????
Also, I could have sworn that I heard that Hagrid, Trelawney, and Kreacher all died, so I am very confused. Pleasantly confused, but confused nonetheless.
"…probably the bravest man I ever knew."