Blog Posts You Might Have Missed
Stuff I Received
The Many Lives of John Stone by Linda Buckley-Archer (from S&S via EW)
One by Sarah Crossan (HarperCollins via EW)
Thanks, Simon & Schuster! Thanks, HarperCollins!
What I Read
How To Steal a Dragon's Sword by Cressida Cowell – Am still reading, am still dreading. Bad times are coming. I can feel it.
2 internship manuscripts
5 to 1 by Holly Bodger – So surprisingly wonderful. Review to come.
Loop by Karen Akins – Rereading so I can dive straight into Twist next. Hooray!
Added To My TBR
Thieving Weasels by Billy Taylor – Thief gets roped back into his family of grifters. Yes.
The Book of Kindly Deaths by Eldritch Black – Monsters! Creepy books! I wish I could remember which of my friends reviewed this book, because they're how I know about it.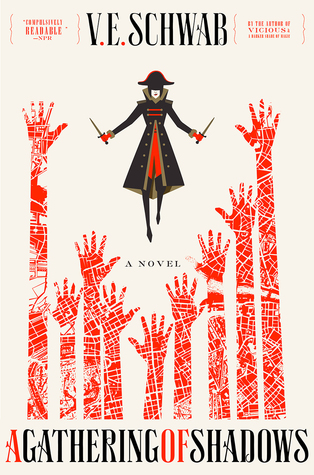 A Gathering of Shadows by V.E. Schwab – I can't know what this is about because I haven't read the first book yet, but that doesn't prevent me from putting it on my TBR!
Untitled book by Marissa Meyer - Marissa Meyer is writing a trilogy about superheroes. Sold.
Event of the Week
Nothing too special this week. The weather was wonderful, then awful, then wonderful again. I went back to the Met and cracked a bunch of Queen's Thief jokes. I bought an unnamed begonia. That's my week. Not too bad.